Chillicothe Contract Review Lawyer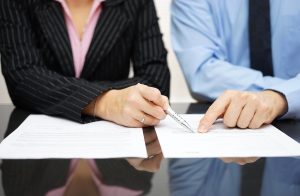 Most employees in Chillicothe are considered 'at-will,' which means their employer can fire them for almost any reason, and at any time. Employers can even fire at-will workers for no reason at all. Contracted workers are an exception to the at-will employment laws in Ohio. 
Among other things, employment contracts typically outline the length of employment, which many workers consider beneficial because it provides greater job security. Still, employment contracts are important documents. If a potential employer has asked you to sign an employment contract or severance agreement, it is important to speak to a Chillicothe contract review lawyer before signing.
Terms Outlined in Employment Contracts
Employers often include a number of terms within employment contracts. The most common of these are as follows:
Term of employment:

The term of employment refers to the start and end date. Sometimes, a contract will contain a provision that automatically renews the term of employment if neither party has indicated otherwise.

Duties of employment:

An employment contract will almost always outline the duties of employment the worker is expected to perform.

Compensation:

Compensation a contracted worker may receive includes a salary, bonuses, benefits, sick leave, and vacation pay.

Grounds for termination:

Due to the fact that contracted employees are not considered at-will, an employment contract should also outline the grounds on which a worker could be terminated.

Arbitration:

This is not only a common term in employment agreements, but it is also one that should cause concern for employees. If a contract forces an employee into arbitration to resolve a dispute, they waive their right to sue. This usually means the employee will not receive as many

damages

if their employer breaches the contract.

Non-compete clause:

Unless the terms of the non-compete clause would place undue hardship on the employee, non-compete clauses are enforceable in Ohio. These terms prevent an employee from leaving the employer to start a competing business or to work for a competitor.
A Chillicothe contract review lawyer will know the most common terms included in an employment contract and will always ensure an employee does not forfeit their rights.
Severance Agreements
Severance agreements are sometimes included within the package that contains the offer of employment, or the employment contract. However, most of the time an employer will present an employee with a severance agreement at the end of their employment. A severance agreement typically provides an employee with financial compensation and other benefits at the end of employment. If the employee accepts this compensation, they will also agree not to:
Sue their employer,

Work in a competing business,

Apply for work with the same employer in the future,

Disclose the details of the termination
Severance agreements are employment contracts and as such, you should always speak to a Chillicothe contract review lawyer who can ensure you are not signing away your rights.
Call Our Contract Review Lawyers in Chillicothe Today
Employment contracts are important documents and before you sign one, you should speak to our Chillicothe contract review lawyers at Marshall Forman & Schlein LLC. We know the terms these contracts should include and will ensure that your agreement is fair before you sign. Call us now or contact us online to arrange a consultation with one of our skilled attorneys so we can advise on your case.