Chillicothe Contract Review Lawyers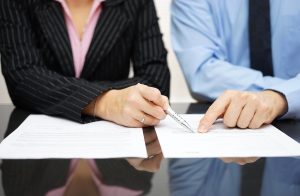 Receiving a job offer is exciting! Sometimes that enthusiasm can cause workers to hastily sign an employment contract without carefully reading it. When this is the case, employees may not realize that they have been treated unlawfully until there is a dispute between them and the employer. To avoid these disputes, or to come out of one in the best position possible, employees should speak to a Chillicothe contract review lawyer before signing on the dotted line. An attorney can look for and explain important provisions, ensure the contract is enforceable, and may be able to help negotiate terms that are more favorable for the employee.
What Makes a Contract Enforceable?
Not all contracts are deemed enforceable by the court when there is a dispute. In order for the court to consider a contract enforceable, it must at minimum:
Be specific:

All contracts must specifically state the obligations of each party. Vague and ambiguous legal language may void a contract and make it unenforceable.

Consideration:

All parties involved in the contract must forfeit something of value. In employment contracts, a worker will usually give up something of value like their time and labor in exchange for the company giving up something of value such as paying wages or providing benefits to the worker. This exchange is referred to as "consideration" in a contract.

Be mutual:

Each party must agree to the same terms, with the same meaning within the contract. After a lawyer has determined that a contract is likely enforceable, they will then discuss the terms to help the employee determine whether the contract is a fair exchange between parties.
Provisions Within Contracts
There are important provisions that almost all employment contracts contain. These include:
Non-competition clauses:

Employers often include

non-compete clauses

within a contract that prohibits you from working for a competitor for a certain period of time after leaving a company and/or sometimes prohibits you from working within a certain geographic area. However, to be enforceable, a non-compete agreement must be considered reasonable.

Benefits and salary:

Employees typically sign an employment contract after they have discussed the salary and benefits they will receive. It is crucial to ensure that the salary and benefits outlined in the contract reflect those prior agreed upon discussions.

Termination clauses:

Ohio is an

at-will employment

state, which means employers can fire employees at any time with or without cause and with or without notice. An at-will employee may still be employed under an employment contract. It is important to discuss whether employment will be at-will or not. If not, the employment contract should include language specifying the requirements for the employer to terminate the employee, sometimes referred to as a "just cause" or "with cause" termination provision.

Dates:

If employment is not at-will,  the start date and end date of employment should be included in the contract, as well as whether or not it is automatically renewable.
An employment lawyer will help explain contract provisions so that the employee can understand the terms of employment before signing and before a dispute arises. 
Call Our Ohio Contract Review Lawyers Today
Before signing an employment contract, it's a good idea to have Chillicothe contract review lawyer look at it. At Marshall Forman & Schlein LLC, our attorneys can help ensure your contract is enforceable, and may be able to negotiate better terms for you depending on the circumstances. Call us today or contact us online to receive the legal help you need.