Contract Review Attorneys Lancaster, OH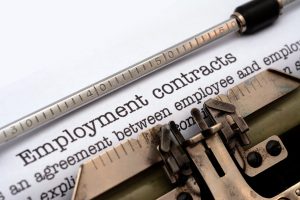 Contracts are an essential part of business and employment. Unfortunately, too many people sign them without reading them. Employers often have contracts that they deem as standard and as such, new employees often think of them as fairly conventional as well. In the future, when employees want to protect their rights, they find out too late that they have signed them away. It is for this reason that anyone who is about to sign an employment contract should speak to a contract review attorney in Lancaster, OH, who can ensure the contract is both fair and enforceable.
What Makes a Contract Enforceable in Ohio?
Many people think that just because a contract is in writing and signed, it is enforceable. That, however, is not true When determining whether a contract is enforceable, courts will take a few factors into consideration. These include:
Specific language:

A contract must clearly state the contractual obligations of each party. When the language is vague or ambiguous, the court may determine that the contract is not enforceable as written.

Exchange of value:

An enforceable contract typically requires each party to forfeit and/or gain something of value. In a business sense, the employer will pay wages and benefits, while the employee forfeits some of their time to work for the employer. When a contract includes language such as "consideration," it is usually referring to this exchange.

Mutual agreement:

For a contract to be enforceable, one of the requirements is that each party must agree to the same terms and have the same understanding of what those terms mean.

Capacity:

Each party must also have the legal capacity to enter into a contract. When one party is a minor or otherwise legally incapacitated, the contract may not be enforceable.
Many people believe that oral contracts are unenforceable, but that is not always the case. Although they may be more difficult to enforce, they can be as valid as written contracts. depending on the circumstances. However, certain contracts must be in writing and are subject to the Statute of Frauds.
Defenses to Breach of Contract
A breach of contract may occur if one of the parties fails to do or abide by something that the contracts require. Sometimes employees are unfairly accused of breach of contract. Anytime someone faces these accusations, it is important they understand that there are defenses available. These include: 
The contract included mistakes, whether they are unilateral or mutual

The contract was unconscionable, or extremely unfair to one party

One party was under undue influence to sign the contract because of a disparity in bargaining power with the other party. An example could be an employer and employee.

The contract contained a legal impossibility 

The contract included fraud or misrepresentation
When someone has been accused of breach of contract, an attorney can review the contract and determine if there is a potentially viable defense for the case.
Do Not Sign Anything Until You Talk to an Ohio Contract Review Attorney
When presented with an employment contract, you should not have to immediately sign it. If possible, you should first consult an attorney serving Lancaster, Ohio with experience in reviewing employment contracts. At Marshall Forman & Schlein LLC, we are happy to review your employment contract and advise you on whether the terms appear to be reasonable and enforceable.  We can also help defend you in alleged breach of contract claims that your current or former employer may bring against you. When you need an attorney to review your contract, we are here to help. Call us today or contact us online to speak to one of our attorneys.