Contract Review Lawyers Columbus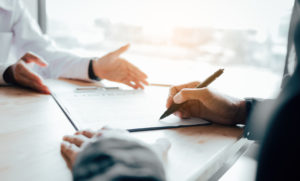 Every year, hundreds of thousands of people sign employment contracts without ever reading them. In fact, many people do not read the fine print until a dispute breaks out and they need a Columbus contract review lawyer to help them understand their rights.
If you have been offered an employment contract, there are key provisions you must be aware of. If necessary, you might need to negotiate changes to certain terms so that you have more options in the event you get another job or are terminated.
Check the Start and End Dates
A contract should have a definite start point and end point. If it does not, then it probably is not a legal contract. Make sure you agree with the start and end dates, otherwise you could be scrambling to find employment when your contract abruptly ends.
Understand the Job Description
Your salary and benefits are tied to the type of work that you do, so understand the job description thoroughly. It is common in employment situations for a job to slowly change over time, with employees taking on more and more responsibilities without an accompanying bump up in salary. You need to be prepared to speak up in job duties do not fall in your job description.
Confirm the Salary and Benefits
You agreed to take a job at a certain salary. Now make sure the salary listed is the same as the one you agreed to. Also, make sure the benefits are what you thought they would be.
Scrutinize a Non-Compete Clause
A competitor might offer a better deal down the line which you wish to take. It is not unusual for companies to try to restrict your ability to work for a competitor by including a non-compete clause. Look for legal language that states you cannot work for a competitor for a certain amount of time and within a certain geographic area.
Ohio law takes a dim view of non-compete clauses, so they must be reasonable to be enforceable. Discuss this issue with a Columbus contract review lawyer if you have questions.
Identify the Termination Clause
A contract should clearly identify the reasons why you can be terminated. Typically, contracts include "just cause" language, which basically means your employer can fire you if you violated a rule or breached your end of the employment contract.
Some employers try to sneak in language stating you can be terminated at the "sole discretion" of a manager. You will want to avoid a contract that has this language since it really offers no more protection than being an at-will employee.
Meet with Columbus Contract Review Lawyers
Contracts are complicated and often filled with dense language. Rather than try to negotiate a contract on your own, contact one of the Columbus contract review lawyers at Marshall Forman & Schlein LLC today. We have been practicing in this field for decades and have an impressive track record of success. Please contact us today if you have a question about your legal contract or if you want general advice.