Contract Review Lawyers Lancaster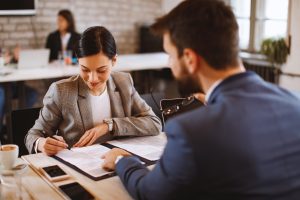 Job offers are exciting, but when an employer offers employment candidates a position, they also sometimes ask them to sign an employment contract. Potential employees are sometimes so happy to receive the job offer, they sign the contract without even reading it. When this happens, employees do not realize they may have signed away important rights, and they will not even know it until months or years later when a dispute arises. Our contract review lawyers in Lancaster can review any contract your employer asks you to sign so that you can avoid any potential disputes in the future.
What Should an Employment Contract Include?
Ohio is an at-will employment state, meaning that most employees in the state can be fired at any time, and for almost any reason. Employees who are not considered at-will usually have an employment contract in place that dictates the terms of their employment. An employment contract can include many different provisions, but some of the most common are as follows:
The duration of employment term: Employees who have a contract may or may not be considered at-will employees. If an employee is not at-will, the contract will typically outline the start and end date of employment. In some cases, the contract may include a provision stating the contract may renew automatically unless either party submits notice within a certain amount of time before termination.
Work duties: A contract should provide the employee's job title or position and may generally outline the employee's expected work duties.
Expected salary: Employment contracts will almost always include the amount of salary the employee will receive. If an employee was promised other benefits, such as commissions or bonuses, these should also be included in the employment contract as well.
Dispute resolution provision: Provisions for certain types of alternate dispute resolution (ADR), such as arbitration, may also be included in employment contracts. It is important to review these clauses carefully, as they almost always prohibit an employee from suing an employer if a dispute arises.
Non-compete clauses: Non-compete clauses prohibit employees from working for the employer's business competitor for a certain amount of time after separation and typically within a certain geographic area. These clauses are usually enforceable unless a court finds the clause is unreasonable, so it is prudent to have a lawyer review these provisions before signing.
Are Employment Contracts Enforceable?
The Ohio courts do not consider all contracts enforceable. Generally, for a contract to be legally enforceable, it must:
Mutual Assent – An enforceable contract must be based on mutual assent, where both parties are voluntarily agreeing to the same terms and ascribe the same meaning to those terms.
Include clear language: Vague and ambiguous language may make a contract unenforceable.  The terms and provisions should be as clear and specific as possible.
Voluntary: All parties named in a contract must agree to the terms within it and sign the contract voluntarily.
A contract review lawyer in Lancaster can not only review the terms of an employment agreement, but also help determine if those terms are in an employee's best interest.
Our Contract Review Lawyers in Ohio Can Help with Your Case
If you have been asked to sign an employment agreement, call our contract review lawyers in Lancaster before you sign. At Marshall Forman & Schlein LLC LLC, we will ensure the agreement is enforceable and may be able to negotiate better terms on your behalf. Call us today or contact us online to schedule a meeting with one of our lawyers and learn more about your legal options.