Newark Harassment Attorney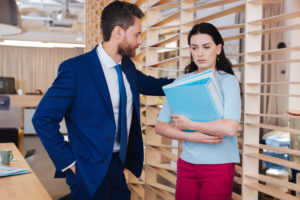 Certain types of workplace harassment are against the law in Newark, across Ohio, and throughout the entire country. Harassment takes many forms and when an employer or another employee engages in unlawful harassment, victims can hold the company and in some cases the supervisor liable. If an employee thinks unlawful harassment has occurred, he or she should speak to a Newark harassment attorney with experience in handling job harassment claims as soon as possible.
Harassment of Protected Classes
Title VII of the Civil Rights Act of 1964 defines certain protected classes. Ohio's laws against discrimination, R.C. 4112 et. seq., mirrors many of the federal laws and protected classes. These classes are based on immutable personal characteristics including:
Gender
Pregnancy
Race
National origin
Religion
Age
Disability
When an employer or another employee harasses a worker based on any of these characteristics, they are violating the law. Victims of harassment may file a claim with the Ohio Civil Rights Commission, the Equal Employment Opportunity Commission, or both.
Sexual Harassment in the Workplace
Sexual harassment is, unfortunately, such a common type of harassment, that it is the one many people first think of when hearing of workplace harassment. No one should have to put up with sexual harassment in the workplace. Examples of sexual harassment include:
Being regularly exposed to pornographic material at work
Being promised a promotion, a raise, or other special treatment in exchange for sexual acts
Receiving constant inappropriate or sexually suggestive comments about one's appearance which are unwelcome.
Being intentionally touched in an inappropriate way
Being sexually assaulted
If you believe you are a victim of sexual harassment contact a Newark attorney with experience in sexual harassment cases right away.
Long-Term Effects of Workplace Harassment
Many people think that when harassment occurs, the worst thing that can happen is that an employee loses his or her job. Either the employer harasses the employee to the point that he or she quits, or a wrongful termination occurs after a period of harassment. While it is possible to lose a job due to harassment, there are other long-term effects, as well.
Workplace harassment is a traumatic experience. As such, employees may experience post-traumatic stress disorder (PTSD) as a result. This can cause long-term psychological damage that may take years to heal. Some individuals never fully recover.
Certain types of harassment, such as sexual harassment, may cause an employee to sustain serious physical injuries. A lawsuit for workplace harassment can help victims of harassment claims recover from these losses.
Have You been Harassed? Call Our Newark Harassment Attorneys
No one should have to put up with harassment in the workplace. If you have been a victim, call our harassment attorneys in Newark with experience in these types of claims. We are committed to helping those who have experienced harassment. Call us today or contact us online so that we can begin evaluating your potential case.