FMLA Lawyers Newark, OH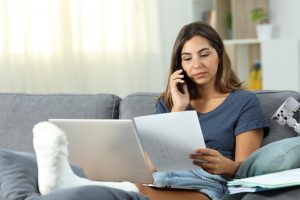 Certain workers in the United States have been protected by the Family Medical Leave Act (FMLA) since 1993. Under the Act, employees have the right to take unpaid leave to recover from a serious medical condition or care for a family member with a serious medical condition. Unfortunately, it is not uncommon for employers to deny eligible employees this leave, and some even retaliate against workers who take or request the leave. These actions are illegal under the Act. If you have experienced problems at work after requesting or taking leave, our FMLA lawyers in Newark, OH are here to help.
What is FMLA?
The FMLA is a law that allows certain employees to take up to 12 weeks of unpaid leave from work if they have a serious medical condition they must care for, or if a family member requires care for a serious medical condition. Eligible employees can take this leave all at once, or they can take it intermittently.
Employers have many responsibilities when an employee requests FMLA leave. They must allow the employee to take the leave if they meet the eligibility requirements, and they cannot discriminate or retaliate against the employee. Employers must also ensure the employee's same or equal position of employment is available when they return from FMLA leave.
Who is Eligible for FMLA Leave?
Unfortunately, not all employees in Ohio are eligible for FMLA leave. To qualify for leave, employees must work for an employer that has more than 50 employees that perform their work within a 75-mile radius of each other. Employees must have also worked for the same employer for a minimum of 12 calendar months prior to taking leave, and worked at least 1,250 hours during that time.
Employees who need to take FMLA leave must also have a serious medical condition as outlined under the law, or their family member must suffer from a serious medical attention that requires the employee's care. Family members that make a worker eligible include the employee's spouse, children, or parent.
An Employer's Rights and Responsibilities
After an employee takes their rightful FMLA leave, employers cannot require that they come back to work before the leave expires. Employees are allowed to check in on the employee while they are taking their leave, but they cannot require that they work on any assignments or projects while they are on leave.
When an employee is ready to return to work, employers can ask for certification from a doctor stating the employee can return to work. However, employers can only ask for this certification if they have reasonable safety concerns regarding the ability of the employee to return to work. Employers can only ask for this certification once every 30 days.
Call Our FMLA Lawyers in Newark, OH if Your Employer Has Violated Your Rights
FMLA provides many rights for employees in Ohio and throughout the country, but the law is extremely complex and has many facets. At Marshall Forman & Schlein LLC, our experienced Newark, OH FMLA lawyers can explain your rights under the law, and help you hold your employer accountable if they have violated those rights. Call us today or contact us online to schedule a consultation.